Koster Wins Senate Seat
Republicans gain in Missouri Senate races
Kansas City Star, November 3, 2004
Chris Koster led a Republican surge into some longtime Democratic territories in the area's Missouri state Senate races Tuesday night.
The Cass County prosecutor's win over Larry Snider in the 31st District race was one of three Republican victories in races for five Kansas City area Senate seats that had belonged to Democrats. Republicans also claimed victory with Luann Ridgeway in the Northland's 17th District and Bill Stouffer in the 21st District in west-central Missouri. Democrat Victor Callahan won in the 11th District of Jackson County. And Democrat Yvonne Wilson, who was unopposed, will claim Kansas City's 9th District.
Going into the night, Republicans statewide held a 20-14 majority in the Senate.
31st District
With a massive campaign effort, Koster ended more than a half-century of Democratic rule in this western Missouri Senate district.
The 40-year-old prosecutor's advantage of more than 4-to-1 in fund raising proved insurmountable to Snider, 51, an optometrist and former Harrisonville alderman. Koster was leading with 47,192 votes to 26,666 for Snider with 81 percent of the precincts reporting. Libertarian candidate Len Ludlam, 39, of Warrensburg had 1,032 votes.
Since 1977, Democratic state Sen. Harold Caskey has held the seat that represents Cass, Bates, Johnson and Vernon counties. Caskey is stepping down because of term limits.
A Republican consultant had called the 31st District race the GOP's most-sought Senate seat, seeing opportunity in Koster, who achieved name recognition in 10 years as prosecutor. His most notable case involved convicted serial killer John E. Robinson Sr.
Koster noted that Republicans made gains in other state Senate races, but he pledged to work with both parties.
"I ran the prosecutor's office in a cooperative spirit, and that's the spirit I intend to take to the Senate," he said. "I promise to work hard for the entire district."
Missouri State Teachers Association endorses Chris Koster
(Harrisonville, MO) The Missouri State Teachers Association announced today it's endorsement of several candidates, including an endorsement of Cass County Prosecuting Attorney, Chris Koster, in his candidacy for Missouri State Senate.
"I am honored to be endorsed by the Missouri State Teachers Association" Koster said. "For the past 10 years as Cass County Prosecutor, I have worked to protect the children and teachers of our community. I am excited about and very much looking forward to the opportunity to continue to fight on their behalf in Jefferson City."
The Missouri State Teachers Association is the largest teachers organization in the state of Missouri. MSTA was established in 1856 and is a grassroots organization, comprised of local community teachers.
Koster has also been endorsed by the Missouri Chamber of Commerce, the Greater Kansas City Chamber of Commerce and the National Federation of Independent Businesses, along with a number of labor organizations, the statewide Association of Firefighters and the Belton Fraternal Order of Police.
For more information contact Danny Pfeifer at 816-304-4542.
Prosecutor Chris Koster Announces Bid for Missouri State Senate
Emphasizes School Funding, Highway Construction, and Law Enforcement
(Cass County, MO) Cass County Prosecuting Attorney Chris Koster formally kicked off his bid for the Missouri State Senate on Saturday, February 28th in three separate speeches across Missouri's 31st senate district.
"This election is the beginning of a new era for this Senate district," Koster told a large group of Republican supporters. "For the first time in 25 years, we will choose a new voice to represent us in Jefferson City."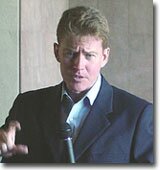 Koster on public education:
"The first, second and third priority of the state legislature must be public school funding. Proper funding for our state's public schools needs to be accomplished fairly, equitably and - most of all - quickly. Step one is to restore the withholding," Koster said.
Koster on the Missouri Department of Transportation:
"Missouri's highways are an absolute, unqualified embarrassment. I have 225,000 miles on my car, so I've had a chance to experience this first hand. The poor condition of our roads has become a disincentive for Missouri business. More importantly, it has become a public safety issue. An aggressive plan to fix our highways must be reached, and it is critical that additional road dollars be brought home to our region of the state."
Koster on Law Enforcement:
"Jefferson City makes too many bad decisions when it comes to criminal justice. To this day, our state government cannot tell the truth when it comes to the length of prison sentences that criminals serve. Truth in sentencing must be passed in our state. Judges shouldn't tell people that a criminal is going to spend 15 years in prison when they really mean he is going to spend 15 months in prison. After 10 years in law enforcement, I am continually disappointed by the Department of Correction's inability to tell the truth. "